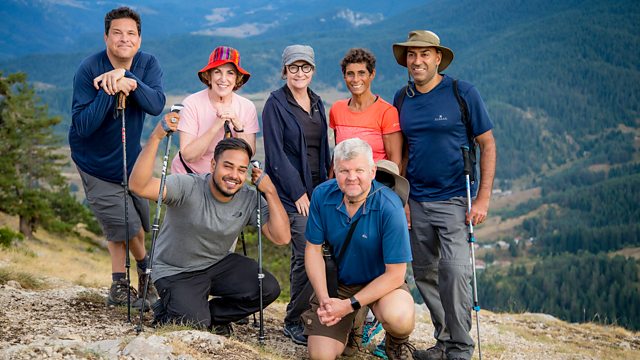 Some of you, at least in the UK, may have watched the previous two programmes of BBC's Pilgrimage series, and might like to watch the third installment which has just started on BBC2.
Hot on the heels of their predecessors, who journeyed to Santiago and Rome, seven new celebrities are set to embark on their own journey of discovery – this time to Istanbul. I'm not sure this is an actual pilgrimage route as such, but what the hell. It runs through a beautiful part of Europe and it features Dom Jolly who is always fun.
Taking part is journalist Adrian Chiles, a converted Catholic; former politician Edwina Currie, a lapsed Jew; Olympian Fatima Whitbread, a Christian; broadcaster Mim Shaikh and TV presenter Amar Latif, both Muslims; and two confirmed atheists, comedian Dom Joly and actress Pauline McLynn.
Donning backpacks, the group will spend just over two weeks living as simple pilgrims following an ancient 1,000km military route, which has been transformed into a modern-day path of peace.
Starting in Serbia's capital city Belgrade, the pilgrims will travel through Bulgaria and the mountainous Balkans, before crossing the border into Turkey, with their goal of reaching Istanbul and the Suleymaniye Mosque.
I have yet to watch this and don't know which old route they may have followed, but some of it will probably cross places visited by Paddy, and they may even use parts of the Via Egnatia that I started to walk ten years ago; I must finish it sometime!
Find out more and watch (if your location permits) here. If you use a VPN package like Nord VPN (which is top grade VPN) you can connect to the UK.